by Kevin Block, PhD
Thursday, March 25 at 7:30 p.m.
Free, no registration required
Online via Zoom, see below for access information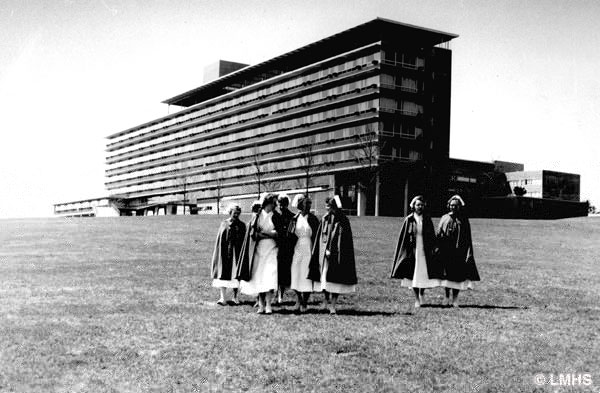 Lankenau Hospital was, perhaps, the most modern community hospital in America when it opened near the beginning of suburban Philadlephia's prestigious Main Line in December of 1953. Wowed by its Atomic Age medical technology and focus on preventive health, the local press hailed Lankenau as an entirely "new kind of hospital." The editors of Architectural Record and Progressive Architecture, meanwhile, awarded Kling's design national honors for transcending the merely functional requirements of a healthcare facility. To them, Lankenau was "real architecture." Edmund Bacon, Philadelphia's famous master planner, was so impressed by Kling's model for Lankenau that after seeing it he invited Kling to work with him on Center City's urban renewal. Lankenau was thus the beginning of Kling's transformation from a young hospital architect into the owner of what would become Philadelphia's most prominent corporate architecture firm.
While historians tend to think of corporate architecture as placeless practice and overlook the importance of regional firms in the evolution of what is now a global design industry, Lankenau was a complicated, elite-directed exercise in middle-class community building, one that projected an image of scientifically administered healthcare in order to manage the process of postwar suburbanization. Central to this image was the architect himself. Kling not only served as a designer, but he also appeared as a glamorous "new man" in fundraising and promotional material that aimed to excite Philadelphia's upper class. In reading the design of Lankenau alongside the use of Kling's persona in Lankenau's "A Bold Venture for Health" fundraising campaign, this presentation will attempt to complicate the prevailing theory of corporate architecture as placeless practice with a locally-informed case study in the architecture of community development.
Kevin Block is an architectural historian and preservationist who received his undergraduate degree from Princeton University and his doctorate from the University of California, Berkeley. He has taught courses in architectural history and American Studies at Berkeley and, most recently, at Princeton. His research focuses on the history of American architecture in the nineteenth and twentieth centuries, especially the development of architecture as a profession. This presentation is part of a book-length project about Vincent Kling and the figure of the corporate architect. He writes a newsletter about this project entitled "The Architect as Doer" (https://tinyletter.com/kpb/archive). He was born in Lankenau Hospital."
This is the second talk in The Elusive Philadelphia School; The Many Guises of Philadelphia's Modernism lecture series. Keep your eye on our website for future talks in this series www.philachaptersah.org"
Join Zoom Meeting
https://Jefferson.zoom.us/j/95789229467
Meeting ID: 957 8922 9467
One tap mobile
+13126266799,,95789229467# US (Chicago)
+16468769923,,95789229467# US (New York)
Dial by your location
+1 312 626 6799 US (Chicago)
+1 646 876 9923 US (New York)
+1 301 715 8592 US (Washington DC)
+1 346 248 7799 US (Houston)
+1 669 900 6833 US (San Jose)
+1 253 215 8782 US (Tacoma)
Meeting ID: 957 8922 9467
Find your local number: https://Jefferson.zoom.us/u/agaTtfVVE
Join by SIP
95789229467@zoomcrc.com
Join by H.323
162.255.37.11 (US West)
162.255.36.11 (US East)
Meeting ID: 957 8922 9467
Join by Skype for Business
https://Jefferson.zoom.us/skype/95789229467