Join us for a special tour with Bruce Laverty, Curator of Architecture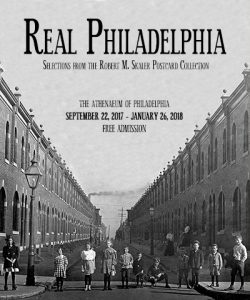 Monday, December 4th at 6:00 p.m.
The Athenaeum of Philadelphia
219 S. 6th Street
Free, but registration required. Please email us at info@philachaptersah.org
More than 250 examples of "real photo postcards" are on display from the a popular and wide-spread type that were produced by professional and amateur photographers alike between 1904 and 1918. These extraordinary images depict Philadelphia at the zenith of its industrial prosperity. Of particular note are the scores of pictures of children who played on the streets of the ever-growing row-house neighborhoods of the Workshop of the World.
Bob Skaler began collecting postcard views of Philadelphia in the 1960s at flea markets, yard sales and antique shops. His collection has appeared in the several books he has written for Arcadia Publishing including Society Hill and Old City, West Philadelphia and Philadelphia's Broad Street. He felt The Athenaeum would be the best repository for his collection of 1,899 postcards making them available to historians and researchers.
The exhibit is free and runs through January 26, 2018.