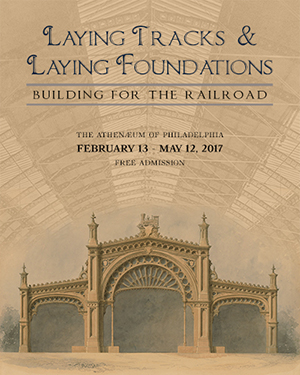 Thursday, May 11 at 6:00 p.m.
The Athenaeum of Philadelphia, 219 S. 6th Street
Cost: Free, but space is limited.  Open to SAH Phila Chapter members and their guests only. Registration required at ffaphila@hotmail.com
The introduction of railroads in the 1830s initiated a revolution in the development of American industry, land use, and social patterns. The new technology challenged the nascent American professions of architecture and engineering to create entirely new building and structural types to meet railroad needs— passenger waiting stations, bridges, train sheds, repair shops, grand downtown depots, and even bedroom suburbs. For more than 100 years, Philadelphia's most important designers met this challenge, including William Strickland, Thomas U. Walter, John Notman, Theophilus P. Chandler, the Wilson Brothers, Frank Furness, Horace Trumbauer and Paul P. Cret. This exhibit features drawings, prints, photographs, and manuscripts that document how these Philadelphia architects and engineers transformed not only their own city, but much of the American landscape.
The exhibition is on view February 13 through May 12, 2017.  http://www.philaathenaeum.org/