An exhibition tour with with Bruce Laverty, Curator of Architecture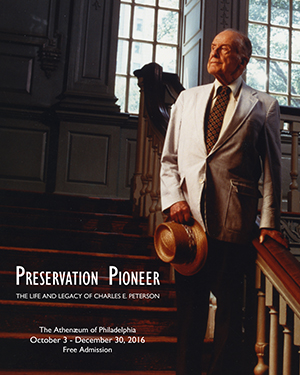 Tuesday, October 25, 2016 at 6:00 p.m.
The Athenaeum of Philadelphia, 219 S. 6th Street
The Athenaeum of Philadelphia is pleased to celebrate the 100th anniversary of the National Park Service and the 50th anniversary of the National Historic Preservation Act of 1966, with this exhibition.
In a career that spanned seven decades, Peterson founded the Historic American Buildings Survey, authored America's first historic structures report, oversaw the creation of Independence National Historical Park, and created significant endowments that encourage building scholarship, documentation, and publication.
Peterson is credited with coming up with the neighborhood moniker "Society Hill" after discovering that William Penn's real estate group, the Free Society of Traders, had set up shop in the area in the late 17th century.  He lived in Society Hill from 1954, when he purchased two row houses on Spruce Street for $8,000, until his death at age 97 in 2004.
This event is free, but registration is required as space is limited. Email info@philachaptersah.org
If you are unable to attend the tour the exhibit is on view through December 30, 2016. Free Admission. Gallery hours: Monday-Friday 9:00 am-5:00 pm and occasional Saturdays, check the Athenaeum website www.philaathenaeum.org