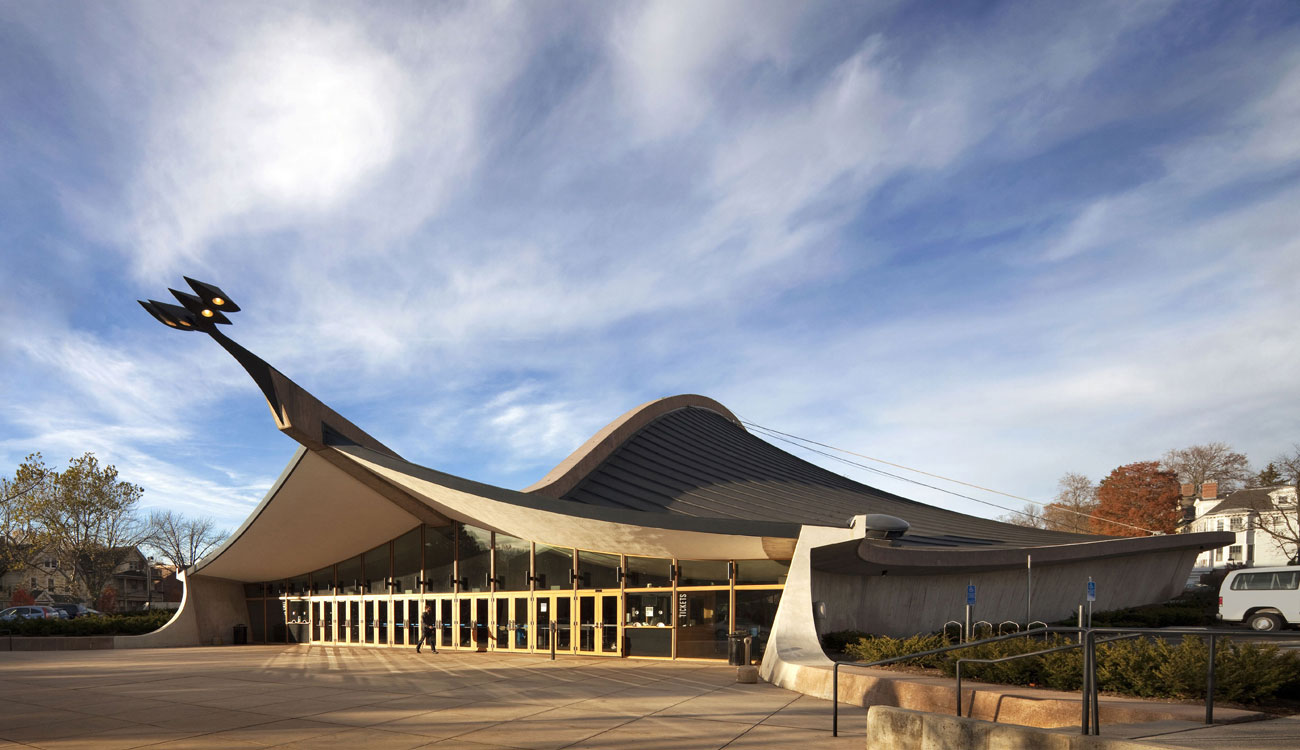 presented by Docomomo US
Saturday, February 21, 2015, beginning at noon
Tickets: $40 Docomomo Members/$45 Non-Members, purchase tickets at:
https://www.eventbrite.com/e/sport-and-spectacle-renovating-saarinens-ingalls-hockey-rink-tickets-15426128967?mc_cid=f8b06b0365&mc_eid=d40627c0a5
Includes:
•Private tour of KRJDA office begins at 12:00 PM at the KRJDA Office (20 Davis Street, Hamden, CT)
•Ingalls Hockey Rink exterior and interior tour 1:00-2:30 PM (73 Sachem Street, New Haven, CT)
•Pre-game food at Wall Street Pizza 2:30-3:45 PM (pizza and soda)
•Yale vs Princeton (Women's Ice Hockey game approximately 2.5 hours)
Eero Saarinen's David S. Ingalls Hockey Rink on the Yale University campus "is deliberately not an ordinary building." Visually compelling in its sculptural forms, the structure is composed of a huge 300-foot parabolic arch held in place by a complex tension grid of cables. As the building neared its 50th anniversary, Yale commissioned Kevin Roche John Dinkeloo and Associates to direct the refurbishment, updates and building expansion to address the needs of the current and future Yale Hockey Program while preserving this Architectural Landmark.
Ingalls Rink was completed in 1958 and renovated in 2009 by KRJDA, the successor firm to the Saarinen practice. In their renovation and refurbishment of the fondly referred to "Yale Whale", KRJDA drew on archived sketches and former Saarinen employees to completely update and add much needed additional space with minimal disturbance to the original design. In addition to the underground extension, the rink received a new playing surface, a modern media and broadcasting area, and a new insulated roof was installed while preserving the original oak roof timbers.
This special full-day tour and hockey game offers guests a unique perspective to understand the structure from the perspective of its designers, its players and the people who maintain and care for the site. The day's speakers include Wesley Kavanagh, Principal, KRJDA, Wayne Dean, and Alice Raucher, AIA Senior Architect/Major Projects Planner, Yale University Planning. The tour includes exterior and interior spaces including inner team spaces, a special tour of the KRJDA offices, pizza break at New Haven's collegiate spot, Wall Street Pizza, and will conclude with the Yale Women's Hockey team against Princeton University. Transportation to New Haven is not included but a limited number of spaces are available to car pool to and from the New Haven train station.