presented by Philadelphia Chapter Society of Architectural Historians & Temple School of Architecture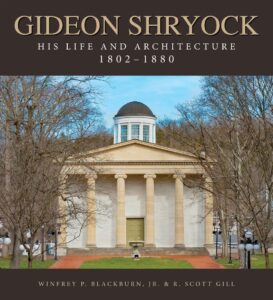 by R. Scott Gill, PhD, Assoc AIA, and co-author of Gideon Shryock, His Life and Architecture 1802-1880
Thursday, April 13 at 6:30 PM
Tyler Architecture Building
2001 N 13th Street, Room 104
Free and open to all.
Gideon Shryock, Kentucky's first formally trained architect, brought the international style of the Greek Revival to Kentucky, and in the process imparted a template of architectural and professional dignity for others to follow. Born in Lexington in 1802, Shryock learned the building trade working with his father, a skilled carpenter and builder. At the age of twenty, he traveled to Philadelphia to apprentice under the country's great architectural master, William Strickland. There, Shryock absorbed the skills, rules, and resources of his chosen profession, and made valuable friends among his talented cohort of apprentices. Upon returning home, he won the coveted prize to design and build a new statehouse in Frankfort. It was an extraordinary accomplishment that launched the young architect toward a remarkable future.
While Shryock is most known for his monumental Greek Revival buildings in Frankfort, Lexington, and Louisville, his body of work was quite varied and included numerous houses, churches, commercial buildings, and even a patented "steam-boiler furnace." He pursued competitions, including for the Washington Monument and Tennessee State Capitol. In his twilight years, he was honored as the first president of the newly created Kentucky Association of Architects.
In this talk Gill will draw from his recently published book, Gideon Shryock: His Life and Architecture, 1802-1880, to show how Shryock influenced and was influenced by his great peers as he helped evolve the American Greek Revival into a mature style.
Scott Gill is the award-winning co-author of three books on Kentucky architecture and an adjunct lecturer in architectural history at the University of Texas at Austin. He is a former board member of the Society of Architectural Historians and currently sits on the board of the Texas Chapter of the Institute of Classical Architecture and Art. Gill holds a PhD in architectural history from UT-Austin, an MBA from MIT, a Master of Architecture from Rice, and a bachelor's degree in history from Stanford. A past resident of Louisville, he currently practices real estate in Austin.