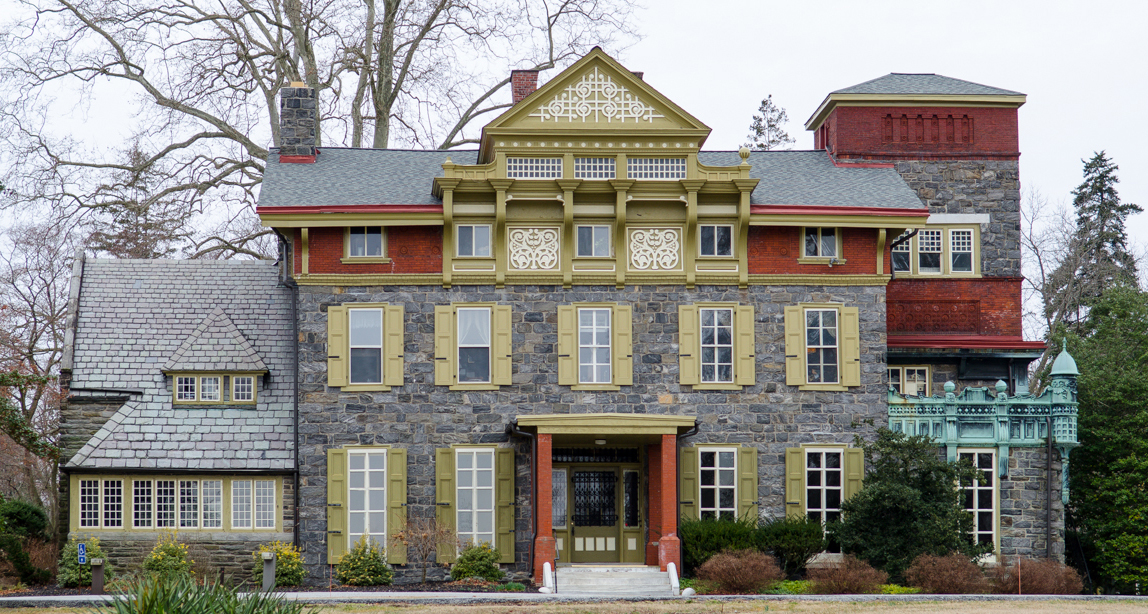 Thursday, June 11, Reception at 5:30 p.m., Talk at 6:30 p.m.
Oakbourne Park, 1014 S. Concord Rd, West Chester, PA
In 1882 James C. Smith of Philadelphia purchased 143 acres of land in Westtown Township, Chester County with an existing granite mansion. By 1884 the Smiths had enlarged and refurbished the mansion to replace their original summer house and named it "Oakbourne."  The Queen Anne renovations are attributed to West Chester architect T. Roney Williamson (1852-1896).  Mr. Smith died in 1893 and willed the property to the Philadelphia Protestant Episcopal City Mission with the stipulation that it be used as a retreat for sick and convalescent white women, 23 years of age or older.  For more than 70 years the James C. Smith Memorial Home was opened to guests.  As many as 25 to 30 women convalesced there at any given time. By 1971, however, increasing operational costs forced the home to close its doors.  In 1974 Westtown Township purchased the land for use as a township park.
Our speaker, Jane E. Dorchester, is a historic preservationist, lecturer, local and architectural historian, and writer who has been working in the preservation field since 1983.  She has lectured on a wide variety of history–oriented topics, including "How To Research Your Historic Property," "What Is Serpentine," "Section 106 Review," and "Gothic Revival, Second Empire, and Queen Anne Architectural Styles in Chester County."
Join us for wine and refreshments at 5:30 p.m. to explore the exterior of this amazing house while the sun is out.  We'll gather inside at 6:30 p.m. to hear about Oakbourne's architect and his other work in the area.
$10.00 for Phila SAH members,
$15.00 for all others, payable on site.
Registration required by Sunday, June 7, at info@philachaptersah.org
Thanks to the Westtown Township Historical Commission for hosting this program.

There is no public transportation to Oakbourne, but we may be able to arrange a ride or a pick up at the Media or Paoli Regional Rail stations.  Please email info@philasah.org if you need a way to get to the program.