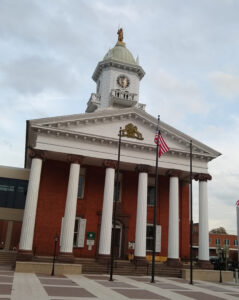 Tuesday, October 11 at 7:00 p.m.
Online via Zoom
Free, but in order to receive a private link to the Zoom presentation registration is required with david.breiner@jefferson.edu

Chambersburg, PA, was the only Northern town burned down by the Confederate Army, in 1864. This included the Franklin County Courthouse of 1841-43. Even though the reconstruction of this building following the war is central to the town's history, it was never known who was responsible for it. During the pandemic, one of the lecturers discovered that the beautiful column capitals on the courthouse are terra cotta. Prior research by both lecturers on the central role of Philadelphia architect Samuel Sloan in the promotion of American terra cotta in the 1850s led to the further discovery that Sloan and his partner Addison Hutton were the architects of the 1865- 66 courthouse.
Jay Shockley, an architectural historian and preservationist, was employed by the New York City Landmarks Preservation Commission between 1979 and 2015. As the senior historian in the Research Department, he researched and wrote more than 100 reports covering all aspects of the city's architectural and social cultural history. Currently he is a Co-Director of the NYC LGBT Historic Sites Project.
Susan Tunick, a New Yorker, is a ceramic artist, historian, and preservationist. She combines her interest in making ceramics with her concern about preserving historic architectural ceramic surfaces. As president of the Friends of Terra Cotta, she is active in research and advocacy, working to protect terra cotta and tile.