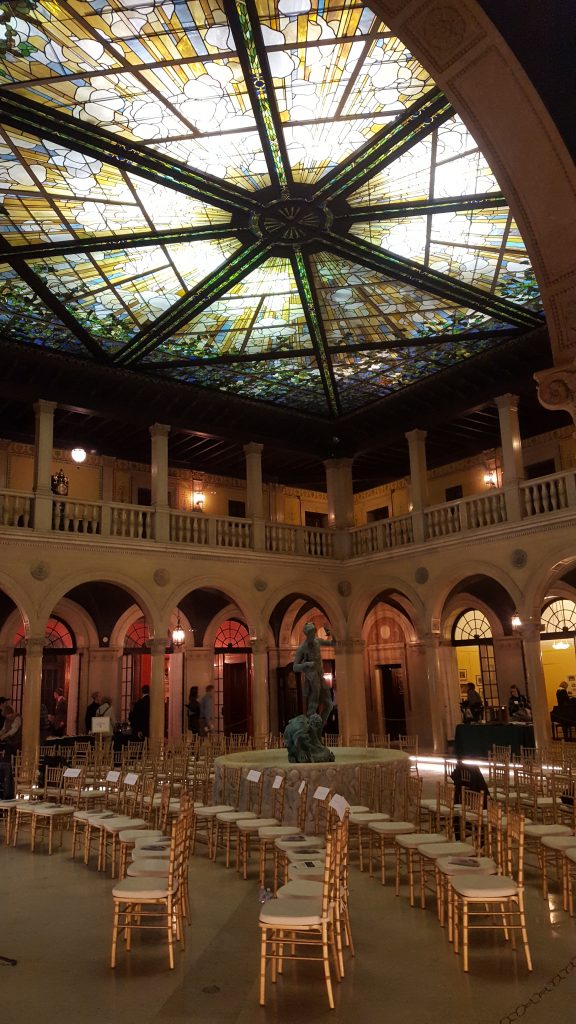 Sunday, March 31 from 1:00 to 3:00 p.m.
3600 Philadelphia Pike, Claymont, DE
(Note: you will have to climb stairs on this tour if you wish to see below or above the ground floor.)
Open to Phila Chapter SAH members only.  $20 per person.
Space is limited and advance registration is required at info@philachaptersah.org
Join the Chapter on a private tour of "The Patio" at Archmere (Arch to the Sea), the former estate of John J. & Helena Springer Green Raskob in Claymont, DE. Listed on the National Register in 1992, The Patio is an Italian Renaissance Revival mansion designed by the Wilmington architects Alexander James Harper and Clay McClure. Built from 1916-18, this 15th-C Florentine palazzo on the Delaware River was home to the Raskobs and their 13 children until 1931. The ground floors are furnished with period furniture, some of which belonged to the Raskobs. A significant feature of the home was the retractable stained glass skylight over the central court which features a fountain carved with likenesses of the Raskob children by Sculptor Charles Keck, a student of Augustus Saint Gaudens. (In 1977, a protective, though transparent, covering was placed over the skylight which prevents it from being retracted.)
Born in 1879 and raised in Lockport, NY, J.J. Raskob became Pierre S. du Pont's personal secretary in 1901. In 1911, he became assistant treasurer of DuPont, in 1914 treasurer, and in 1918 vice-president for finance of both DuPont and General Motors. Raskob had been an early investor in General Motors and had engineered DuPont's ownership of 43% of GM. Raskob remained with DuPont until his retirement from the company in 1946.
He was also a devout Catholic and staunch Democrat, serving as chairman of the Democratic party from 1928-1932. Many important players on the National stage were guests at The Patio for strategy meetings in 1928 when four-time New York Governor and fellow Catholic Alfred E. "Al" Smith ran for President. Largely due to anti-Catholic sentiment Smith lost to Republican Herbert Hoover, so Raskob turned his attention to another project that he started in 1929, construction of the Empire State Building. The Empire State Corporation, formed to build the structure, was a consortium of four men: Pierre S. DuPont, Louis G. Kauffman, Ellis P. Earle, and Raskob. After his loss for President, they named Al Smith as the corporation's president. Smith was a real booster for the ESB and did a great deal to sign tenants during the Depression. The Empire State Building was officially opened on May 1, 1931, later that year Raskob left Archmere for his home on the Eastern Shore of Maryland as the Claymont area had become increasingly industrial in the first decades of the 20th-C.
In 1932 the Norbertine religious order purchased the estate and founded Archmere Academy, originally an all-boys school, today Archmere continues as co-ed private Roman Catholic college prep school with an annual enrollment of about 500 students. Current Headmaster Michael A. Marinelli, Ed.D., will be our guide on this tour that will take you from the basement to the attic.
Driving Directions: From Philadelphia Pike drive past the main gates to the mansion and make a left turn at the traffic light onto Manor Avenue.  Enter at the THIRD gate on the left.  Park in that lot and walk around to the front entrance of The Patio.
Public Transit Directions: Archmere is a 10 minute walk from the SEPTA Claymont Station on the Wilmington/Newark Line. For walking directions follow this link https://www.google.com/maps/dir/Claymont,+200+Myrtle+Ave,+Claymont,+DE+19703/3600+Philadelphia+Pike,+Claymont,+Delaware/@39.7998058,-75.4578404,16z/data=!3m1!4b1!4m13!4m12!1m5!1m1!1s0x89c6e40bd4f2cf73:0x5b800c0087541c27!2m2!1d-75.4523299!2d39.7977258!1m5!1m1!1s0x89c6e40d0f53016b:0xbb09e8121e7d9563!2m2!1d-75.4539289!2d39.8023699?hl=en&authuser=0